If you want your Teams (or Skype for business online) users to have the ability to call regular (PSTN) phone then you will need to purchase a calling plan. The exception is that, you have other application or service provider for calling feature or you have direct routing.
Typically, there are two calling plan options:
Domestic Calling Plan priced at  $12 user/month
Domestic and International Calling plan priced at $24 user/month
There is a new  licenses available for US and Canada users only –
Microsoft 365 Domestic Calling plan for US and Canada – priced at $8 user/month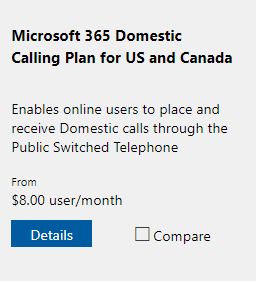 This license is same as the "Microsoft Domestic calling plan" but applicable to users who are hosted in US or Canada. This is a much better option as it saves $4 per user per month.
If you are purchasing phone system as an add-on there is a better option available. The phone system add-on is usually purchased with Microsoft (or Office) E3 or E1 license. Traditionally, with domestic calling plan, it would have cost additional $20 per user monthly to give the user the ability to dial a number – $12 for the domestic calling plan + $8 for the phone system.  And it would require adding two add-ons.
However, instead of adding two add-on licenses, you can actually buy just one license that includes both "Domestic calling plan for US /Canada" and "Phone System".  This new license is called "Microsoft Teams Calling Essentials for US and Canada" priced at $15 per user per month.  Therefore, this plan will save you additional $1 per person.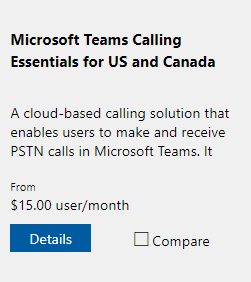 Therefore, customers who used to purchase both phone system and calling plans in US and Canada will now have a simpler add-on license with a reduced price.  Kudos to Microsoft for this new licensing offers.
Last but not the least, there is another option targeted towards businesses with less than 300 users. This is called Microsoft 365 Business Voice and it is currently $15 user / month.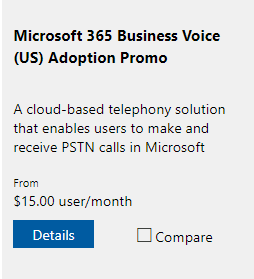 It is more cost effective since it also includes "Audio Conferencing". Also, note that, this license is not limited to US and Canada only.  This license includes – phone system, domestic calling plan and audio conferencing. Note that, this price is a promotion till April 30, 2021 – after that, it is supposed to increase to $20 per user per month. The promo offer will be for 1 year from the date of purchase.
For more details please check Cloud-Based Phone System, Voice Calling, Video Phone System (microsoft.com)
Note that, if you purchase "Microsoft Teams Calling Essentials for US and Canada" and also purchase, "Audio Conferencing" it will cost you  $19 per user per month. Therefore the promo offer will save you $4 per user per month. However, after promo period ends, if the pricing of other offers discussed in this article, stays same then the "Microsoft 365 Business Voice" will actually cost $1 more than purchasing the "Teams Essential" and "Audio Conferencing" add-on combo.